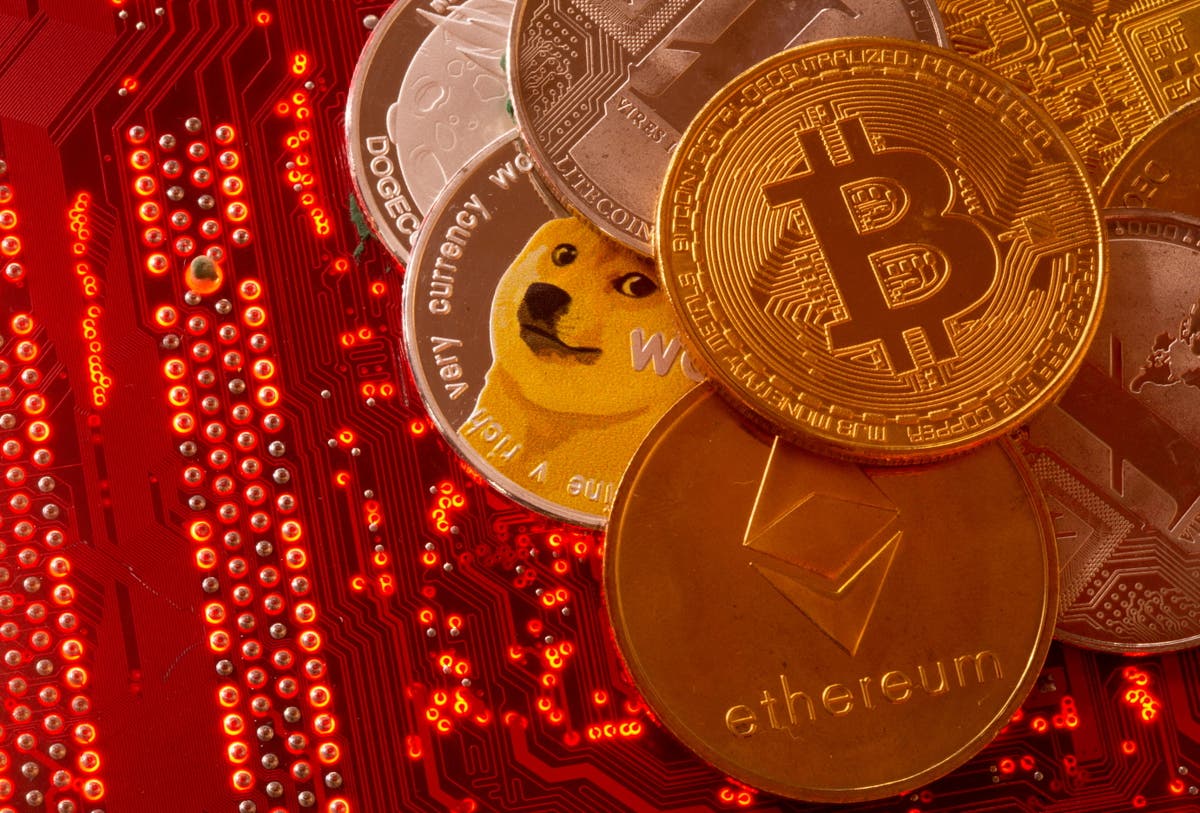 What are cryptocurrencies? | Decomplicated
Bitcoin has crashed below $24,000, reaching its lowest levels since the end of 2020.
More than $200 billion has been wiped off the entire cryptocurrency market on Monday morning.
It is the latest in a series of price crashes for the cryptocurrency, which has seen it drop more than 60 per cent in value over the last seven months.
While many crypto holders are liquidating their assets, crypto lender Celsius told customers that they would be temporarily unable to withdraw funds from the platform.
Crypto exchange Coinbase has also announced that it is culling over 1,000 employees after previously rescinding job offers. The company made $800 million last year.
1655217633
Adam Smith14 June 2022 15:40
1655217033
El Salvador's bitcoin plunges
Adam Smith14 June 2022 15:30
1655216073
Coinbase users could lose their crypto
Last month, Coinbase warned users that their cryptocurrency could be at risk if the exchange ever went bankrupt.
"Because custodially held crypto assets may be considered to be the property of a bankruptcy estate, in the event of a bankruptcy, the crypto assets we hold in custody on behalf of our customers could be subject to bankruptcy proceedings and such customers could be treated as our general unsecured creditors", the warning states.
Adam Smith14 June 2022 15:14
1655215231
Over 1000 people to leave Coinbase
According to reports, Coinbase has roughly 5,000 full-time workers, translating to around 1,100 people who will lose their jobs.
Adam Smith14 June 2022 15:00
1655214167
Coinbase employees are to receive emails from HR to tell them if their job was affected, he said. Those would be sent to their personal email addresses, since the people being sacked would immediately lose access to the company's systems, Andrew Griffin reports.
Adam Smith14 June 2022 14:42
1655212907
Coinbase executives are $1.2 billion richer
Coinbase's Brian Armstrong and Fred Ehrsam, along with two other executives, netted about $1.2 billion in proceeds from selling stock.
They sold the shares at prices ranging from $189 to $422. Coinbase opened at $381 on April 14, 2021, its first day of trading. On Wednesday, the stock closed at $67.17, the Wall Street Journal reports.
This huge profit comes as Coinbase culls over 1,000 members of staff.
Adam Smith14 June 2022 14:21
1655210687
Coinbase made a net profit of more than $800 million in the final quarter of 2021, but has been rescinding job offers. More than 300 people have had their jobs pulled, according to Vice, with one person describing it as "reckless and negligent," and another described it as "irresponsible." Coinbase had no comment.
Adam Smith14 June 2022 13:44
1655209847
Coinbase CEO's message
In a blog post about the job losses, Coinbase's chief executive Brian Armstrong said the reasons for the cuts were threefold:
"Economic conditions are changing rapidly: We appear to be entering a recession after a 10+ year economic boom. A recession could lead to another crypto winter, and could last for an extended period. In past crypto winters, trading revenue (our largest revenue source) has declined significantly. While it's hard to predict the economy or the markets, we always plan for the worst so we can operate the business through any environment.
"Managing our costs is critical in down markets: Coinbase has survived through four major crypto winters, and we've created long term success by carefully managing our spending through every down period. Down markets are challenging to navigate and require a different mindset.
"We grew too quickly: At the beginning of 2021, we had 1,250 employees. At the time, we were in the early innings of the bull run and adoption of crypto products was exploding. There were new use cases enabled by crypto getting traction practically every week. We saw the opportunities but we needed to massively scale our team to be positioned to compete in a broad array of bets. It's challenging to grow at just the right pace given the scale of our growth (~200% y/y since the beginning of 2021). While we tried our best to get this just right, in this case it is now clear to me that we over-hired."
Adam Smith14 June 2022 13:30
1655208847
Coinbase announces restructuring
Coinbase has today announced a restructring plan for its business – which includes cutting the company's workforce by 1,100 employees.
Adam Smith14 June 2022 13:14
1655208556
'This is a contagion fallout from the Terra crisis'
"Conspiracies circulate every day in crypto, and most are not worthy of paying attention to, but the bottom line here is clear: this is a contagion fallout from the Terra crisis, and any yield-paying product's risk spiked massively in the wake of the Terra crisis", writes data analyst Dan Ashmore.
"Confidence in the long-term model is now gone, and that itself is a killer blow".
Adam Smith14 June 2022 13:09